SENTINEL Diaphragm Seals Protect & Isolate System Instrumentation, Guaranteed!
Without proper protection, hazardous and corrosive process fluids regularly contaminate and damage system instrumentation. The strength and durability of Sentinel Diaphragm Seals protect and isolate all forms of system instrumentation for a minimum of three years…guaranteed.*
SENTINEL BENEFITS:
Protect and isolate all forms of system instrumentation from hazardous and corrosive process fluids
Ensure gauge and switch accuracy
Smooth out erratic pressure surges
Extend the life of pressure instrumentation
Protect gauges from freezing and slurries
Receive accurate and consistent readings when working with corrosive or solids-laden fluids
Replace expensive gauges with low cost utility gauges
SENTINEL FEATURES
Three year guarantee on diaphragms and seal bodies
Accuracy of ±2% full deflection or better
Pressure ranges up to 1000 PSI (68.95 BAR)
1/4″ (6.35mm) up to 3/4″ (19.05mm) inlet ports
All standard models available from stock
Bodies available in a full range of chemically resistant materials
Custom models available
MORE INFORMATION: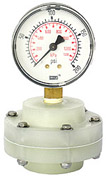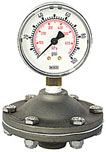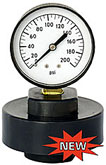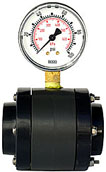 Sentinel "Flow-Thru" Diaphragm Seal
Prevents "dead-leg" and clogging of viscous process fluids
*Blacoh Fluid Control guarantees its Sentinel Diaphragms and Seal bodies for three years from the date of purchase. If any failure occurs, Blacoh will replace your Diaphragm Seal at no cost to you. Guarantee does not apply to gauges or custom models.