Electronic Interface Pump
Electronic Interface Pump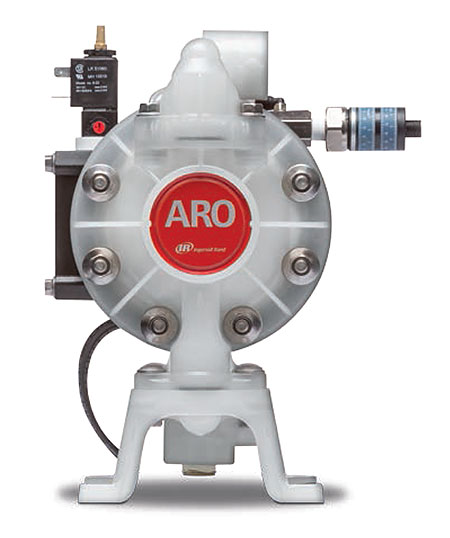 Available in 8 sizes, from 1/4″ to 3″
Product Information
Overview & Features
The ARO Electronic Interface Pump is an air-operated diaphragm pump that provide accurate, electronically controlled dosing. Paired with a PLC, ARO Electronic Interface Diaphragm pumps assure consistent flow rates and pinpoint control for a myriad of fluids and applications, from chemical treatment to commercial laundry.
Configurable for use with a PLC
Built-in solenoid control seamlessly integrates with other electronic components
Internal cycle counter and end-of-stroke pressure signals track end-of-stroke feedback and pump data
Leak detection option detects diaphragm failure to help reduce costly production downtime
Factory-installed cycle counter and leak detection kits
Preassembled components for hassle-free and error-proof installation
Lube-free design and fewer parts for easy maintenance and repairs
Multiple sizes accommodate virtually any process, fluid or viscosity
Five-year warranty
Option
Voltage
120VAC, 110VAC and 60VDC
12VDC, 24VAC and 22VAC
240VAC, 220VAC and 120VDC
24VDC, 48VAC and 44VAC
ATEX Compliance
To meet ATEX Zone 1 requirements, three solenoid options are available: 12VDC, 24VDC and 220VAC.
No-Coil Solenoid
For customers who prefer to use our solenoid with their own coil.
Standard Valve Block
Standard Electronic Control Diaphragm pump without solenoid control. Offers the option to add add leak detection and end-of-stroke cycle sensing.
Leak Detection Sensors
Refractive infrared light sensors continuously monitor the air-side of the diaphragm and signal if fluid enters the air side of the diaphragm housing.
Cycle Sensors
Optional cycle sensors provide closed contact output to monitor pump operation and provide end-of-stroke data on cycle and flow rates. They also help provide preventive maintenance reminders.
---
Technical Documents