Expert Series Pumps (EXP)
Expert Series Pumps (EXP)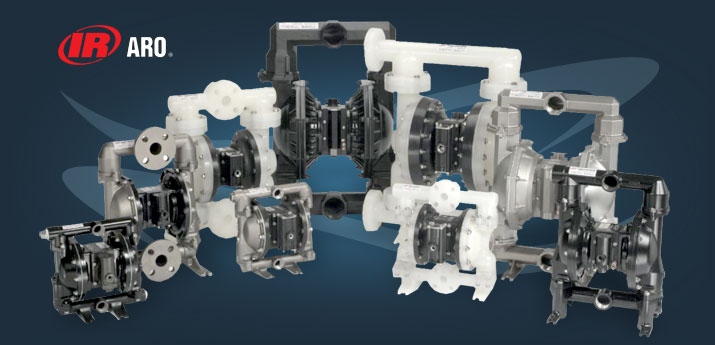 IR ARO EXPERT SERIES DIAPHRAGM PUMPS
The ARO EXP represents the very latest in air-operated diaphragm pump design expertise with a host of innovative features that can help the process professional solve performance issues while reducing operating costs. Starting with its patented stall-free air valve technology, the ARO EXP offering brings air-operated double diaphragm pump reliability to new levels with a simplified major shift valve and housing that provides stall-free operation within a design that's been reduced to only 4 working parts. This simplified air valve arrangement makes access, inspection and scheduled service faster and easier than ever, which translates into saved time, parts and labor costs.
The ARO EXP air motor design features both a patented anti-ice valve configuration as well as a trip-rod design that insures a positive shift every time. Like the major shift valve arrangement, these ice-free, positive trip-over features also translate into serious savings realized through reduced pump "downtime".
EXP was built specifically for the process industries and includes a broad range of sizes from ½" to 3″. ARO provides a comprehensive offering in materials of construction for the ultimate in chemical/fluid compatibility.
The Key to EXP:
Patented ARO® Air Motor Technology
select the yellow points for more information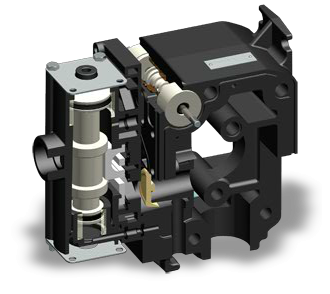 Simplified Major Air Valve Block
New valve block design is easy to access, simple to service and lube free.
Engineered thermoplastic body combines strength with corrosion resistance.
"Unbalanced" Major Air Valve
Unbalanced valve design eliminated valve centering and pump stall-out - even under low air inlet pressures.
"D" Valve
Provides a positive seal during valve shift
Helps insure optimum energy efficency while avoiding costly air "blow-by."
Ceramic construction insures long service life.
"Quick Dump™" Checks
Eliminates pump ice-up by diverting cold, wet exhaust air away from the major air valve.
Removes the need for space heaters, hot water taps or other ice-preventive contraptions.
"SilmulShift™" Valve
Provides an ultra-positive, reliable shift signal that avoids stall-out.
Provides faster pump trip-over with more flow.
Faster trip-over improves delivery with less pulsation and superior laminar material flow.
ARO EXP Key Features
Wide Range of Metallic and Non-Metallic Pump Wetted Materials for Broad Fluid Compatibility
Simplified 4-Piece Major Air Valve Block Provides Fast, Easy Access
Convoluted Diaphragms Outlast Conventional Designs by as Much as 4-to-1
Improved Ball Check Seat Design Prolongs Ball Check Life
Side-Mounted Inlet/Discharge Keeps Fluid Materials Away from Main Pump Area
Capable of Flows Up to 275 GPM (1,041 lpm)
Generous 5-Year Warranty on Materials and Workmanship

Click Here for a general ARO EXP Diaphragm pump model overview
ARO EXP Materials of Construction
Metallic pump body materials
Aluminum
Stainless Steel
Cast Iron
Hastelloy
Non-Metallic pump body materials
Polypropylene
PVDF
Groundable Acetal