SAFETY, RELIABILITY AND EASE OF ASSEMBLY: 
BOLTED IS BETTER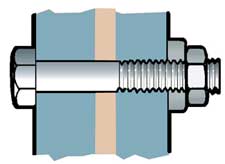 All Aro diaphragm pumps use bolted construction that process professionals demand. And, Aro Non Metallic Diaphragm Pumps utilize fasteners that are constructed of 300 series stainless steel for maximum chemical resistance.
Bolted is Safer – bolted construction reduces the risk of spills, environmental contamination and the attendant, mandatory reports to regulatory agencies that spills can create.
Bolted is Reliable – Bolted construction withstands the heavy loading that diaphragm pumps are subjected to, without concerns of breakage or loosening.
Bolted is Easier to Assemble – Aro's bolted design allows for easy positioning and alignment of parts during reassembly. This is a significant advantage over band-clamp style fasteners, which are difficult to align and hold together during reassembly.
Bolted is Less Expensive – Aro's design uses standard bolts which cost significantly less to replace. Non standard fastening devices (such as band clamps) are considered "wear parts" and are more expensive to replace.