Oil Packages
Eliminate the time and expense of specifying the right parts for the right pump with Ingersoll Rand / ARO's LP and 425 Series packages.

AF0409 Series Packages
9:1 Ratio
4 1/4" Air Motor
3.9 GPM (14.8 LPM) max flow
Overview and Features
Maximum Fluid Pressure: 1350 psi
Maximum Working Flow Rate: 3.9 gpm
Carbon Steel Construction
Package includes pump, bung adapter, and material hoses
Model
DM0409A53PFL1000 (55 Gallon Drum Mount / No Cover)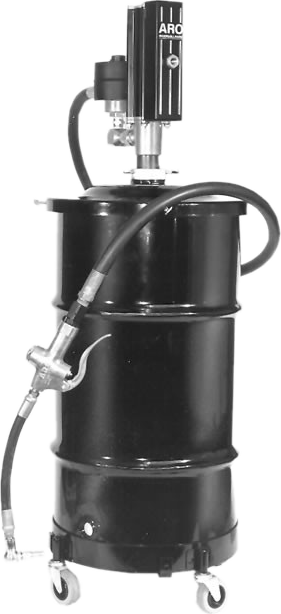 LP Packages
3:1 and 5:1 Ratios
2″ and 3″ Air Motors
Features
Convenient oil pump packages featuring simple, durable piston pump design allowing for service by any owner or qualified technician.
Packages include meter, control handle, dolly, drum cover, hose and valve.