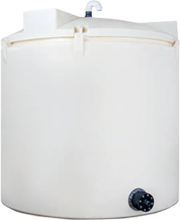 Our innovative SAFE-Tank® storage and containment system, the "tank within a tank", provides customers with a leveraged investment that offers peace of mind and environmental care. Our high density crosslinked polyethylene SAFE-Tank® alleviates the need to build large, high-maintenance concrete containment areas. In the event of a spill, the SAFE-Tank® system's all-in-one design features a protected containment area that will safely isolate reactive chemicals, protect your employees from harm, and protect you from environmental remediation, all within the footprint of a standard vertical tank.
Available with OR-1000™ surfacing.
ADVANTAGES OF SAFE-TANK®
Provides 110% secondary containment.
Will equalize the liquid and allow the chemical to be continually used until it is convenient to repair the tank.
Is ideal for chemicals like sulfuric acid that can have dangerous exothermic reactions to water.
Eliminates the expense, cost and maintenance of secondary concrete containment.
Minimizes the system's footprint by providing secondary containment in a more compact way.
Adding a bellows transition fitting will maximize your SAFE-Tank® system's performance.
DOCUMENTS
Fill out the Tank Application Data Sheet or call us at 1-800-828-4114 to let a representative help you select the right tank to fit your needs.