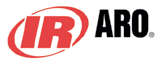 Three letters. Eighty years. One goal: to be a world-class manufacturer of positive displacement pumps and systems. With an 85-year legacy of premier product performance and service excellence, ARO provides fluid handling equipment for customers and industries worldwide including chemical, manufacturing, energy, pharmaceutical, mining and more. Offering air-operated diaphragm pumps, piston pumps & packages, filters, regulators, & lubricators (FRL's), lubrication equipment, and pneumatic valves & cylinders, ARO has the right product to meet your specific needs.
Ingersoll Rand / ARO Diaphragm Pumps provide stall-free, ice-free operation. Their patented "Unstallable" unbalanced air valve design avoids stalling issues associated with other pumps. The "Quick-Dump" exhaust valves divert cold exhaust air from ice-prone components, preventing freezing. Backed by a five-year warranty, we have the most reliable pump line on the market today.
ARO pneumatic piston pumps provide industry proven dependability, economy, and precision control for the delivery of a wide range of flowable materials. The efficient, simple design and construction of ARO pneumatic piston pumps are the reason they are recognized as one of the most dependable, versatile and accurate on the market. Whether you're moving a small amount of low viscosity fluid a few feet or a large amount of high viscosity material a longer distance, ARO has a pump to meet your application needs.
ARO-Flo filters, regulators, and lubricators are a great way to keep you air supply clean and conditioned in order for your equipment to operate at its peak performance.
Delivering unmatched dependability and productivity with a full range of lubrication products built to a global quality standard to keep all types of fluids moving efficiently.