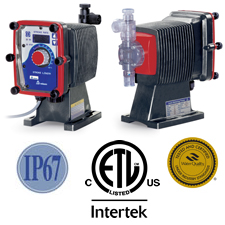 The EK Series pumps are the world's first IP67 electronic metering pumps. This means that the EK is the only pump in the industry guaranteed to operate submerged 3 feet under water for up to 30 minutes! Needless to say, the EK Series pumps are ideal for wet or high humidity environments such as irrigation, agriculture, car wash or paper mill applications. Capacity ratings are up to 6.7 GPH with a maximum pressure of 150 PSI.
IP67 Construction
By integrating the pump body into a one-piece design, sealing is easier and more effective. Both the drive and the controller are completely insulated from moisture or gas. Construction of the EK Series pumps make them perfect for indoor or outdoor applications where the pumps are frequently exposed to wash down.
Control Features
High speed and a 20% minimum stroke length allow the EK Series to achieve an 1800:1 turndown ratio. The digital display and pushbutton speed control make setting the EK pump easy and precise. The EK pumps come equipped with pulse input (1:1) control and also feature an external stop input that can be set to stop the pump from a normally open or normally closed contact.
BROCHURE
EK Brochure
INSTRUCTION MANUAL
Instruction Manual
A&E SPECIFICATION
A&E Specification