WEBMASTER COOLING TOWER CONTROLLERS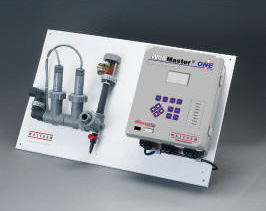 WebMasterONE® has proven to be the most revolutionary product the Water Treatment market has ever seen. Walchem's patentedShoulderTap® Server-On-Demand technology provides instant real-time access to your WebMasterONE® controller when you need it without the need to be permanently connected to the Internet.
The WMT series WebMasterONE® can be configured for your specific cooling tower application. With 4 direct sensor inputs, WebMasterONE® is capable of monitoring system conductivity, make-up conductivity, pH and ORP. It can also be equipped with eight (8) analog inputs and nine (9) digital inputs capable of monitoring tank levels, providing interlocks, feed verification and receiving other plant parameter signals such as corrosion rates, biofilm monitors or phosphate concentrations.
The WMD series WebMasterONE® is set up to control two cooling towers, with Bleed, Feed and two Biocide control relays for each tower. It has all the capabilities of the other WebMasterONE controllers.
WebMasterONE® controllers are available with Modbus TCP/IP protocol and can communicate with your existing building energy management system, SCADA system or distributed control system over an Ethernet connection. You can view data and alarms using the HMI software that you use for all your other processes. WebMasterONE® operates in Server mode and will respond to requests for sensor readings, alarm messages, relay status, digital input states and more.
NEMA 4X packaging and UL/CSA/CE approvals ensure that the WebMasterONE® can withstand the toughest industrial environment.
Brochure
Instruction Manual