WIND WebMaster Industrial Water Treatment Controllers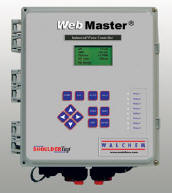 Walchem's WebMaster® Industrial (WIND) Controller sets a new standard for Industrial Water treatment Controllers. The WIND has a flexible multi-I/O platform, a wide range of analytical sensor measurement capabilities, and an extensive assortment of integrated communications and data handling features.
Summary of Benefits:
Fully integrates functions of a transmitter, PLC, datalogger and auto-dialer into a rugged, industrial, NEMA 4X package
No proprietary software required to view live data – just a web browser
No expensive PLC programming and re-programming – all changes made intuitively using a standard web browser
Extensive built-in Plug-n-Play communications options:

Ethernet
USB (Laptop and FlashDisk Support)
Land line modem
Cell modem

A wide range of direct sensor measurements:

pH
ORP
Conductivity
Free Chlorine
Chlorine Dioxode
Ozone
Peracetic Acid
Electrodeless Conductivity

Access live or stored data remotely within the facility (LAN connection) or from anywhere in the world (cell or landline modem)
Instant alarm notification via cell phone text message, email, or local alarm relay
System status reports and datalog files can be emailed automatically
WebMaster® controllers are available with Modbus TCP/IP protocol and can communicate with your existing building energy management system, SCADA system or distributed control system over an Ethernet connection. you can view data and alarms using the HMI siftware that you use for all your other processes. WebMaster® operates in Server mode and will respond to requests for sensor readings, alarm messages, relay status, digital input states and more.
NEMA 4X packaging and UL/CSA/CE approvals ensure that the WebMaster® can withstand the toughest industrial environment.
Brochure
Instruction Manual