EZ 
SERIES
The EZ Series electronic metering pumps with microprocessor control offer precise chemical injection at a low cost. EZ pumps have outputs to 6.3 GPH and pressure capabilities to 150 PSI. The compact size and simple control make it ideal for OEM applications, water treatment, car wash and other industrial applications.
The EZ Series features an advanced microprocessor control with a turndown ratio of 360:1, making it an exceptional value. It is simple to operate with three pushbutton keys. The 360:1 turndown ratio provides unmatched versatility and results in high-resolution chemical feed and elimination of slug-feed effects.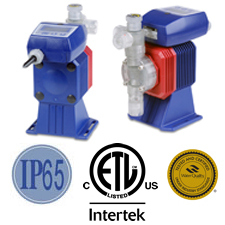 Innovative Timer Control
The EZ-Timer module integrates Walchem's EZB pump technology with a versatile programmable timer. Timed feed control can be programmed in daily or weekly cycles. The weekly schedules can be programmed in either 1 or 2-week cycles with a daily on-time. The daily timer can be set for multiple daily on-times. The EZ-Timer pump is a simple and effective way to automate additions in small systems.