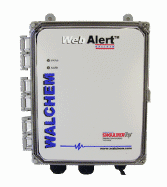 Walchem's WebAlert is the first stand alone remote monitoring device that can web enable your installed equipment without having to replace or upgrade it.
Your key system parameters (analog and digital) can now be monitored from any computer – anywhere in the world – with a standard web browser. WebAlert has an embedded webserver which allows it to function like a website. And with Walchem'sShoulderTap Technology, the WebAlert is only on-line when you need it, making it the world's first practical and secure industrial monitoring Internet solution. You have direct access to your live data. UL/CSA/CE certified.
Brochures
Instruction Manuals

2004 Breakthrough Product of the Year
WebAlert pulls your older equipment into the Internet Age with real-time online monitoring, datalogging, auto-reporting and auto-alarming. With the ability to monitor up to six (6) 4-20 mA signals and six (6) discrete digital inputs, the WebAlert is perfect for upgrading current control systems with remote communications and data acquisition technology. You decide where and when you need the information and WebAlert makes it happen.