WebMaster Boiler Controllers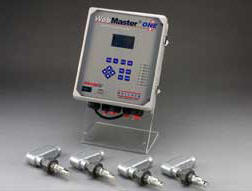 WebMasterONE® has proven to be the most revolutionary product the Water Treatment market has ever seen. Walchem's Patent-Pending ShoulderTap® Server-On-Demand technology provides instant real-time access to WebMasterONE controller when you need it without the need to be permanently connected to the Internet.
WMB Boiler Series WebMasterONE® can be configured for your specific boiler application. With 4 conductivity inputs, up to 4 boilers may be controlled using either continuous sampling, or intermittent (timed) sampling. In intermittent sampling, the sample is checked with the valve closed, eliminating flashing to ensure that the conductivity reading is correct. Blowdown based upon that sample may be for a set amount of time, or a for a time that varies depending upon how far from the set point the reading is. Two-stage intermittent sampling is also available, allowing the user to test the boiler less frequently during times of the day when loading is not as high.
Eight relays provide blowdown, plus either chemical feed or alarm capability. It can also be equipped with eight (8) analog inputs and nine (9) digital inputs capable of monitoring tank levels, providing interlocks, feed verification and receiving other plant parameter signals such as steam load, phosphate concentration, etc.
WebMasterONE® controllers are available with Modbus TCP/IP protocol and can communicate with your existing building energy management system, SCADA system or distributed control system over an Ethernet connection. You can view data and alarms using the HMI software that you use for all your other processes. WebMasterONE® operates in Server mode and will respond to requests for sensor readings, alarm messages, relay status, digital input states and more.
NEMA 4X packaging and UL/CSA/CE approvals ensure that WebMasterONE® can withstand the toughest industrial environment.
Brochure
Instruction Manual