ARO, OWNER OF THE 
"UNSTALLABLE"

 AIR VALVE DESIGN
As relevant today as the day it came to market, Aro is still the sole owner of the technology and the title: Unstallable. Aro uses no magnets, springs, re-set buttons, or other secondary actuators to insure pump shifting – only air.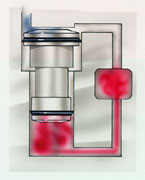 Aro's patented "unbalanced" major air valve has constant air pressure applied to its small end. This assures that the pump resets. Competitive designs lose their signal during every shift, making them vulnerable to stalling.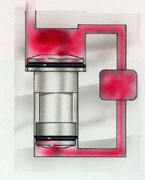 To reverse the valve, air pressure is supplied to the larger end of the valve, allowing the valve to shift – note that constant air pressure continues to be applied to the small end.
AN AIR VALVE THAT 
FORGIVES AND FORGETS
Aro's major air valve requires no added lubrication and the "wiping" action of the seals makes it extremely forgiving of contaminated compressed air supplies.