Specialty Pumps (Solvents, Coolants, & Washer Fluids)
Specialty Pumps (Solvents, Coolants, & Washer Fluids)
Specialty Pumps (Solvents, Coolants, & Washer Fluids)
Piston and diaphragm pumps designed to handle your needs for all specialty type fluids.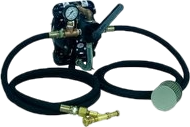 Calcium Chloride Tire Fill
613201-2-C
1:1 Ratio
Overview & Features
Designed for the purpose of evacuating and filling tires with calcium chloride ballast solution.
613201-2-C Calcium Chloride Tire – Fill Package: Includes Inlet and outlet hoses, Strainer, Tire Filling 8′ Suction hose, Control handle, and Check valve

Transfer of Solvents
1:1 Ratio 2″ Diameter Air Motor Piston Pump
Overview & Features
Durability – Proven design ensures lowest total cost of ownership
Versatility – Multiple materials of construction for your specific application needs
Environmentally sound – Optional muffler ensures pump meets OSHA specifications
Serviceability – Ease of service and repairs through minimal part count
Materials of Construction
Lower Pump: Carbon Steel
Plunger Material: Carbon Steel
Packing Seal Options
Models
P39124-600 Filter / Regulator
61113 Wall Mount
61879 Muffler
637084 Air Motor Repair Kit
637081 Lower End Repair Kit (612041-1, 612042-1)
637083 Lower End Repair Kit (612041-3)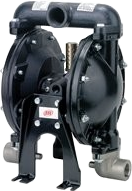 50/50 Mixing of Antifreeze & Water
1:1 Ratio
Features
This 1:1 ratio, one-inch diaphragm pump has dual inlets (3/4-inch NPTF) to allow simultaneous pumping and blending of antifreeze and water.
Accessories
Packages
612999-3 50/50 Antifreeze / Water Blending Pump Package – Includes 650715-C Pump, 66100 Wall Mount Bracket, 66779 Siphon Tube Assembly, 628066-6 1′ Material Hose, 628067-3 Material Hose, P29221-610 Air Line Filter/Regulator, 100067 Gauge, and 622201-3 1/4′ Air Hose.
DATA SHEET


650715-C Manual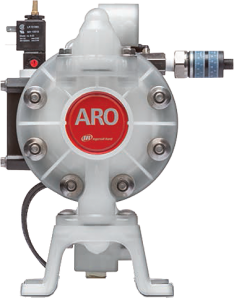 AF0409 Wash Pump
AF0409 Wash Pump
Overview & Features
Designed for heavy-duty cleaning of equipment and washing donw parts with detergents, caustics, and dilute acid type cleaners
9:1 ratio, double-acting pump section is separated from the wir motor to prevent any cleaning solution from coming in contact with and damaging the air motor
Mounting Versatility – Wall mounted or directly mounted in 2″ bung of a standard 55 gallon drum
Reliability – Eliminating downtime, the unbalanced air valve ensures stall-free pump operation
Environmentally Sound – Optional muffler ensures pump meets OSHA specifications
Materials of Construction
Lower Pump Material: 425 Series Stainless Steel
Plunger Material: 316 Stainless Steel
Packing Seal Options
Models
67442 Ball Valve Regulator
61113 Wall Mount
67445-1 Heavy-Duty Muffler
66333-B Wet-Sol Plus Packing Lubricant
637489 Air Motor Repair Kit
K1875C81BBW2 Lower End Repair Kit
23644-400 ARO-Stop Over-run Control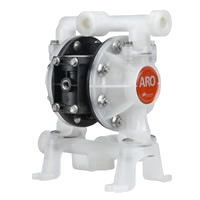 1/2″ Ports
1/2″ Diaphragm Pump Air Pump
Overview & Features
Unbalanced Air Valve Eliminates Stalling – Start it up, shut it down – no matter how often or how long, the IR Diaphragm Pump will start pumping every time.
No Lubrication Required – One less maintenance detail to log. No oil droplets to contaminate your process or work site. And, the IR Diaphragm is more forgiving in dirty air service.
Pumping Efficiency Remains Constant – Since IR Diaphragm Pumps contain no rotors, gears, vanes or pistons to wear out – there is no gradual decline in pump performance. And the IR 'Unstallable' air valve uses less power to operate than competitive brands.
No Foaming or Shearing of Material – Process fluids enter and exit the IR Diaphragm Pump unchanged.
Variable Flow Rates – By simply adjusting air pressure to the pump, or restricting the discharge line, you have better, more precise control over your pumps flow rate – without pump damage.
Positive Priming Provides Easy Start-Ups – Internal pump fluid check valves are located close to the diaphragm chambers – assuring positive self-priming – even from dry start.
Runs Dry Without Damage – Because there are no sliding or close-fitting parts at risk – the IR Diaphragm Pump can run dry without damage.
Lightweight and Portable – Most IR Diaphragm Pumps can be carried from job to job with ease.
No Complex Controls – Unlike electric pumps, IR Diaphragm Pumps contain no wires, circuits, fuses or bypass controls to burn out and replace.
DATA SHEET


PD05X-XXX-XXX-B Manual