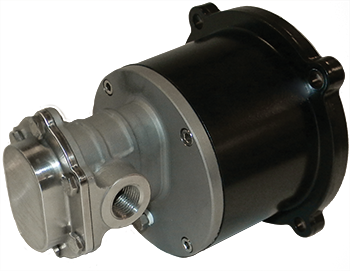 Chemical Processing

Oil & Gas

Petrochemical

Water Treatment

Wastewater Treatment
pH control

Odor control

Acids

Caustics

Hydrogen Peroxide

Ammonia
Materials of Construction
Magnet: Neodymium in 316LSS welded, Neodymium in Alloy C welded
Gears & Liner: Carbon reinforced PTFE
Shafts: 316LSS, Alloy C
Bearings: Carbon Graphite or Graphite-impregnated Silicon-carbide
O-rings: PTFE
| Feature | Value |
| --- | --- |
| Industrial Design | Structurally rugged with corosion-resistant materials ensures compatibility with the toughest chemicals |
| Sealless Design | Magnetically driven, sealless design ensures zero leakage and no emission of hazardous chemicals |
| Front-pullout Design | All typical wear components can be easily replaced by removing the front cover only. No need to disconnect piping or motor connections. Reduced pump down-time for repair or scheduled maintenance. |
| Minimal Number of Components | Fewest component gear pump on the market ensures long life and ease of maintenance. |
| Efficiency | Ideally suited for low flow operation where centrifugal pumps perform efficiently and can experience caviation increased radial loads and unstable flow. |
select the green points for more information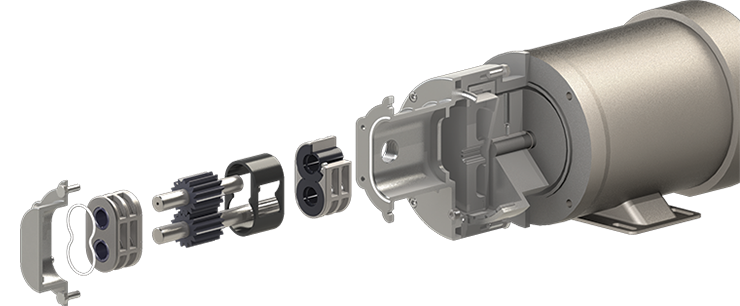 Single Tool Repair
Install your KOPkit® using only one tool
Housing Liner
Patented liner protects housing from wear. Allows as-new performance with the change of a KOPkit®.
Heavy Duty Bearings
Designed with large wear areas to accommodate hydraulic loads. Special materials and patent pending features allow dry-run capabilities.
Containment Can
Resists Heat Damage due to Eddy Currents and Eliminates Leak Paths
Tolerance O-rings
Maintains proper internal clearances, tolerant of axial wear or thermal expansion.
Single Piece Gear/Shaft Assembly
Eliminates retaining rings and keys
Fully Encapsulated Magnets
For maximum corrosion resistance. Spline design allows driven magnet to "float" within the can. The magnet will self-align with no extra fasteners and no axial loads induced on the shaft.
Rigid Pump Base*
Corrosion resistant and robust for optimum pump support in harsh environments. Slotted holes fit multiple motor frame feet for easy retrofitting in existing installations
**Rigid Pump Base available on E75 and 125
**Universal Flanges available on E75 and 125